2019 Registration is now open!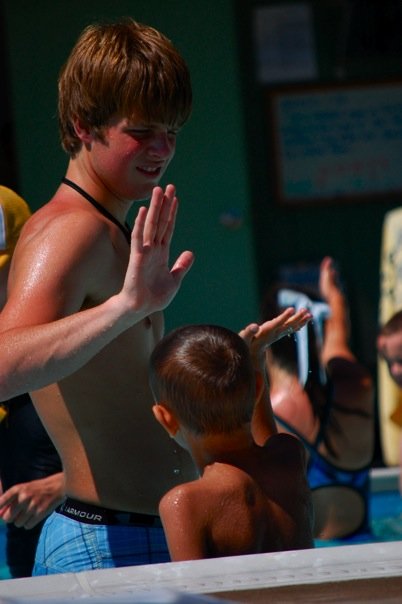 Want your child to learn how to swim? They can begin at six months old. Sign your child up today for six 30 minute lessons with our highly trained swim instructors.
2019 Classes offered & Cost
Levels 1-9 ($75)

Pre-Lifeguard - 45 min class ($89)

Semi-Private Lessons ($120/child)

Private Lessons ($180)

Create-Your-Own Class ($90/child)
2019 SESSIOn options
2-WEEK session (3 times a week on Mon, Tues, & Wed)
Session A: June 3 - 12, 2019

Session B: June 17 - 26, 2019

Session C: July 8 - 17, 2019

Session D: July 22 - 31, 2019

Session E: Aug 5 - 14, 2019
6-WEEK SESSION (once a week)
Session F: June 17 - July 29, 2019 (Mondays) (skips the wk. of July 4)

Pre-Lifeguard: July 9 - August 13, 2019 (Tuesdays)
Information
No guarantee for makeup classes for students who miss classes

If classes are canceled due to weather, we will make them up on Thursday evenings and Saturday mornings

Check website and camp answering machine in order to check if classes are still on. If there is no information on the website or answering machine then classes are on
POLICIES
Full payment for session(s) and session option(s) is due at time of registration

Payment is non-refundable and non-transferable, even to another family member

Beachmont reserves the right to cancel classes if a class does not meet the minimum requirement of students.

Refund Policy: Refunds will be given only in the case of a medical concern, doctor's orders or major medical emergency (broken bone, sprain, disease, etc.) and if approved by Beachmont. A medical certificate is required with refund requests. There will be no refunds for days missed due to illnesses such as the common cold, strep throat, flu and virus. There will be no refunds for days missed due to conflicts of schedule.
Please contact our office for any financial concerns at (410) 592-3648.